Get into action! There's so much to do here, even we haven't done it all! Hours of adventure: mild to wild. From tramping to biking to white-water rafting – for just a taster, check out over the following:

Known widely as 'The Best One Day Hike' in New Zealand. The world famous track starts at Mangatepopo car park 7 km off State Highway 47. From there a well-formed and marked track up the Mangatepopo Valley follows a gentle gradient to Soda Springs. It's a steep climb up to the Mangatepopo Saddle between Mt Tongariro and Mt Ngauruhoe. Poles lead across the South Crater to the track's highpoint at Red Crater (height of 1886m), a still active and steaming vent. Beyond Red Crater the track passes Emerald Lakes and skirts Te Wai-Whakaata-o-te Rangihiroa (Blue Lake).
From here the route descends and skirts the nearby Ketetahi springs down through native forest to the car park. From November through May you can expect summer conditions on the track.
Usually from June to October the track is snow covered and you need winter equipment such as crampons and ice axe, guided trips are available.
Transport
Transport leaves daily from right outside. Departure times to Mangatepopo road end at 6, 7, 8, 9 and 10 am. Returning from Ketetahi Road end at 1:30, 2:30, 3:30, 4:30 and 5:30 pm. To book click here
What to Bring
Food and plenty of water, especially on hot days
Rainproof coat (overtrousers are a good idea too)
Sturdy boots – uneven volcanic terrain can be difficult and tiring to walk on
Warm woollen or polypropylene clothing – cotton clothes don't keep you warm when its wet
Woollen hat and gloves or mittens
Sun protection
Personal first aid kit
Map and compass / GPS – important in poor visibility
Cellphone for emergencies
In winter you many also need:
Ice axe and crampons – know how to use them
Snow gaiters
Avalanche probe/snow shovel
Avalanche transceiver
Weather
Tongariro National Park weather can change with alarming speed. You must be prepared for all weather conditions. The weather in the car park can be totally different to what's going on nearly 1000 meters higher and further up the track. Be prepared to change your plans and turn back, especially when visibility is poor and in strong winds.
Side trips
Mt Ngauruhoe (2287m): This is not a poled route. From the base of Mt Ngauruhoe at Mangatepopo Saddle, climb directly up to Mt. Ngauruhoe's crater. The best way is up the rocky ridge to the left of the scree slopes. The summit area is dangerous and should be avoided if there are signs of increased volcanic activity. Allow 1 – 1 and 1/2 hours up(from Saddle) and 1 hour down.
Mt Tongariro summit (1967m): From Red Crater follow the poled route leading to the summit. Allow 1 and 1/2 hours return.
– Be prepared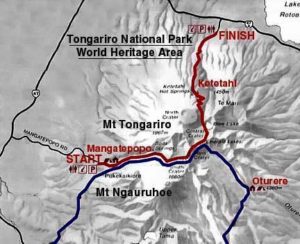 National Park Village borders the World Heritage Tongariro National Park to the east and the Whanganui National Park, to the west. The village is located near the base of Mt Ruapehu, at the intersection of SH 4 & SH 47 on the volcanic plateau. Discovering the secrets of the volcanic wilderness and experiencing where adventure happens, National Park Village is naturally an ideal base for your summer and winter explorations.
We have some wonderful walks around National Park Village
Taranaki Lookout
2.5 hours return walk from National Park Village through native bush with many ferns and mosses.
Tupapakurua Falls lookout
Allow 4 to 5 hours return is an extention of Taranaki Lookout.
Tramping / Hiking
Mt Ruapehu Crater Climb
New Zealand's most accessible live volcano is Mt Ruapehu and you can climb this mountain in summer. You can ride the chairlifts up the mountain (mid December to early May) and enjoy unsurpassed views over the central North Island. Guided trips are available.
Northern Circuit (3-4 days)
Trek around Mt Ngauruhoe, including much of the Tongariro Alpine Crossing, starting at Mangatepopo or Whakapapa Village and finishing at Whakapapa Village. Each day offers different highlights.
Round the Mountain
4-6 days hike around Mt Ruapehu. A great back country experience with solitude and magnificent mountain views.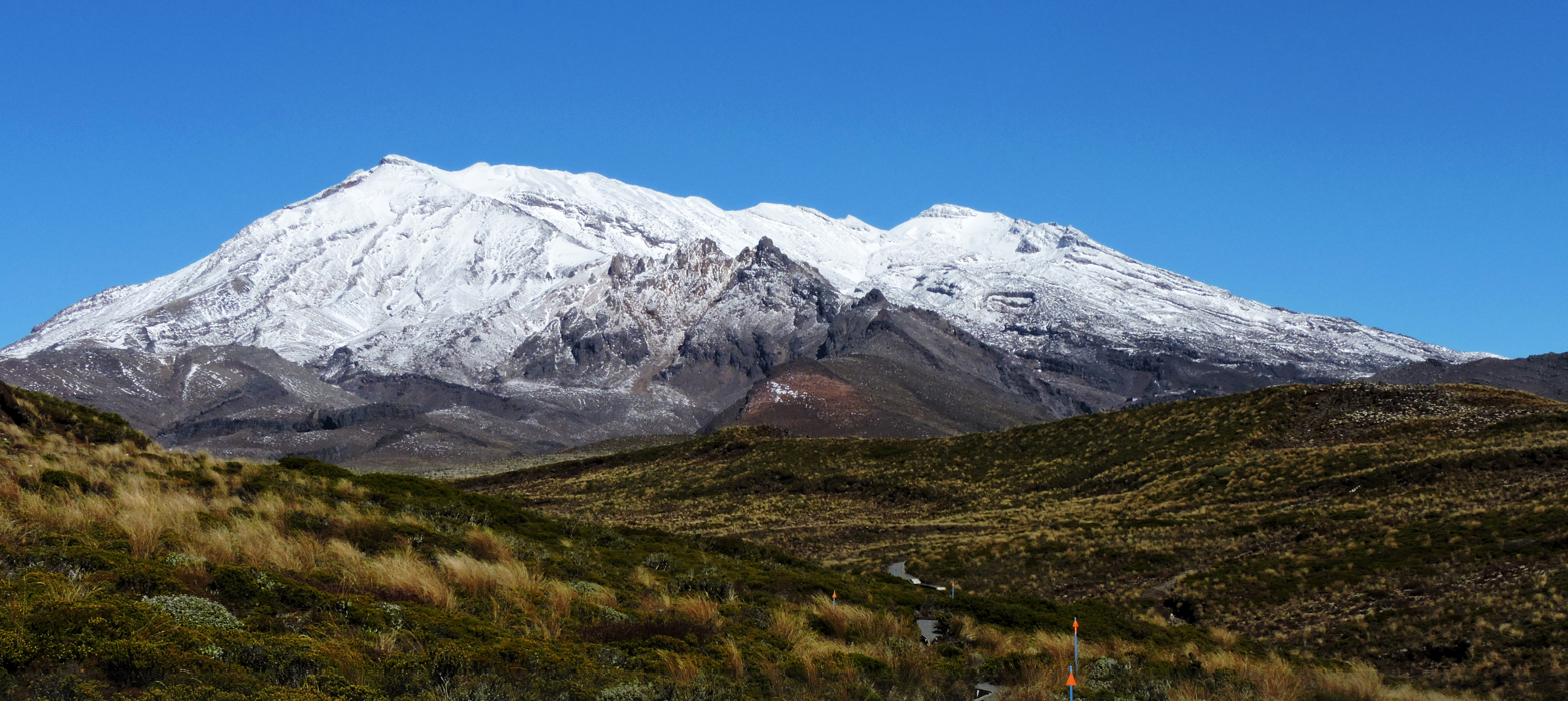 Tama Lakes (5-6 hours)
A gradual climb through tussock and alpine herb fields. Tama Lakes occupy several old explosion craters. This walk is often very windy so take windproof gear.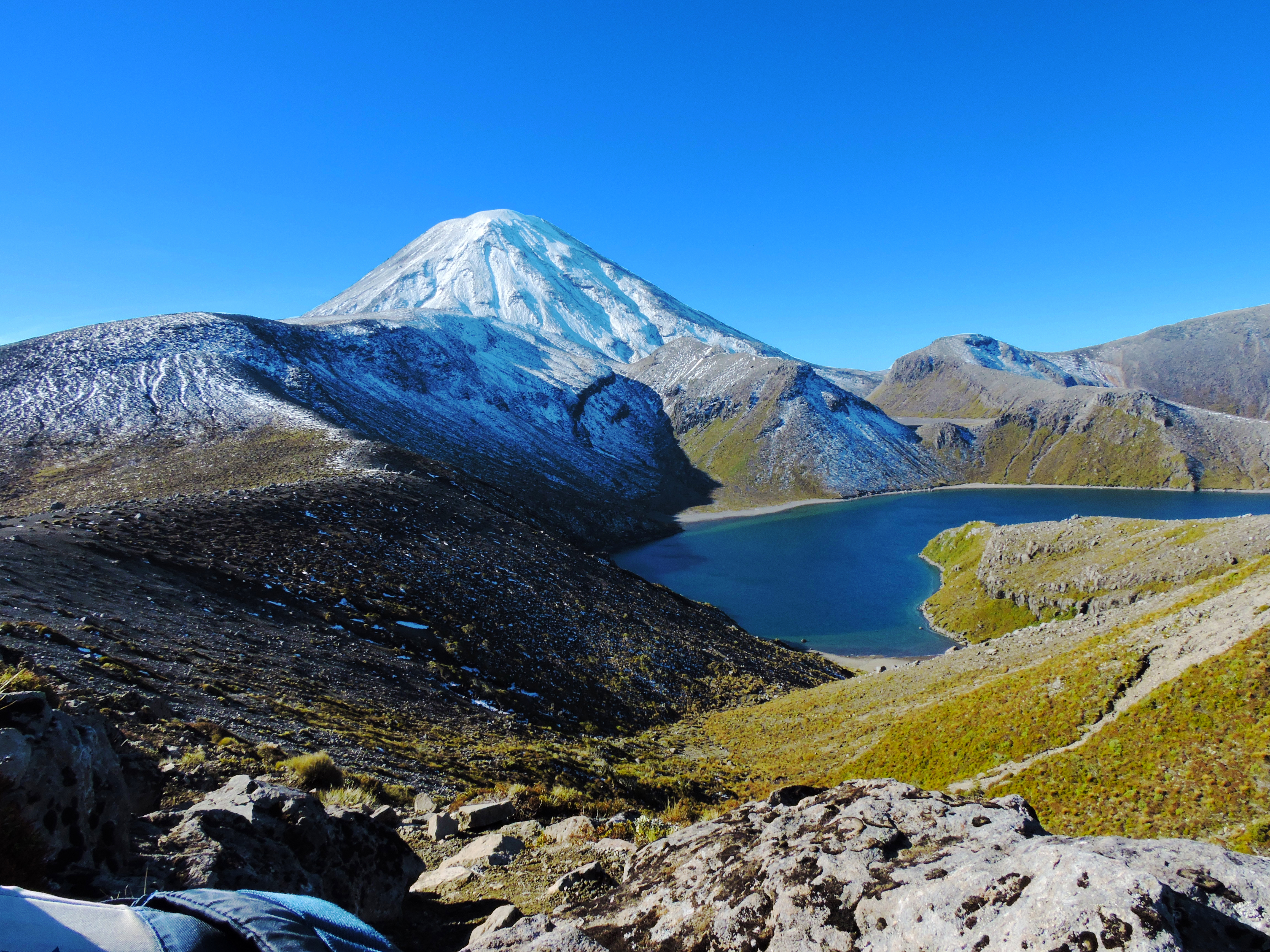 Silica Rapids (2.5 hours)
A highly varied walk taking in beech forest, subalpine plants, swamp, tussock, and the creamy-white terraces of the Silica Rapids.
Taranaki Falls (2 hours)
This is a loop track through beech forest, tussock over some eroded gralliers form by wind, rain and frost on volcanic soil. Water tumbles 20 metres from a lava flow to a pool below. Strip off, get in the pool, and stand as close as you dare to the thunderous shower.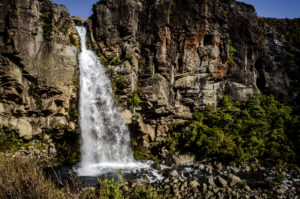 Whakapapaiti Valley (4-5 hours)
A track with spectacular views of the Whakapapaiti Valley, beech forest and bush-clad ridges. Involves crossing the Whakapapaiti Stream (no bridge), which may not always be possible to cross.
Ridge Track (40 minutes)
A short climb through beech forest and alpine shrublands. Good views from the top.
Tawhai Falls (20 minutes)
The falls which were formed from an ancient lava flow (LOTR filming site) are reached after a short stroll through mountain totara and beech forest.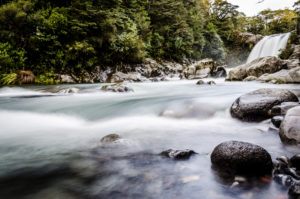 Mounds Walk (20 minutes)
The mounds were formed thousands of years ago by avalanches of debris from volcanic activity. Good views of the volcanoes from the top.
Whakapapa Nature Walk (15 minutes)
A pleasant, easy loop track taking in some of the unique flora of the area. There are a series of informative panels along the way explaining the various vegetative zones throughout the park. Wheelchair access.
New Zealand's largest ski area
When the winter snow arrives, (late June through to November), both local ski fields, Whakapapa and Turoa attract winter fun seekers.
During the summer months (December – May), chair lifts operate up to Knoll Ridge Cafe, 2020 m a.s.l., on Mt Ruapehu for sight seeing. In fact you can make your own way or be guided to the brim of the crater lake.
Whakapapa Ski Area – 20 minutes from National Park Village
New Zealand's largest, most developed ski area. Within the 600 acre boundary, there are a myriad of options that cater to beginners right through to advanced skiers out to challenge their limits. There are plenty of marked trails but the off piste skiing at Whakapapa is superb.

Whakapapa is renowned for its world class beginner facilities in Happy Valley. It has become a popular zone for first time ski and snowboarders with its wide gentle slopes. Happy Valley has separate ski hire facilities and a 120-seat cafeteria to re-energize in throughout the day.
With its north facing basin, many steep faces, slopes, and gullies, Whakapapa is an adventure playground for those more intermediate and advanced skiers and boarders looking for a challenge.
Turoa Ski Area – 55 minutes from National Park Village
Turoa offers an unparalleled winter experience for all. The high altitude and south west facing slopes means plenty of dry winter snow from July until September, and perfect corn snow in October, for awesome skiing and boarding.
Turoa's terrain is nature's answer to the perfect terrain park. The Alpine Meadow is a gentle, sheltered area for the first timers, while on the upper mountain, tricky chutes and steeps abound to challenge the expert. The wide, open slopes of Turoa provide plenty of great cruising, and the formed Terrain Park give riders a specially designed area to practice their tricks.
National Park Village is the natural destination from which to start and finish your 1, 2, 3, or 5 day Whanganui River Experience.
This timeless river finds its origin high on Mt Tongariro starting as alpine stream and gathering waters from Mt Ngauruhoe and Mt Ruapehu. As it descends through the Central Volcanic Plateau it sweeps in a huge northern arc towards Taumarunui and then winds southwards towards Wanganui and the Tasman Sea.
Today this remote river provides a wilderness haven for unique outdoor adventure. In very few places in the world can you now take a canoe on a river several days totally cut off from the pressures of civilisation. People of all levels of fitness and ages can experience The Whanganui Journey.
The 42 Traverse (46km 3-7hours)
The 42 traverse is a mountain bike ride through State Forest 42, and is one of the premium MTB rides in New Zealand. Renowned for the long and often rutted down hills, to test even the most ardent Kamikaze MTB freak.
The track surface varies from gravel to mud, some stream crossings, and with all good things there is normally some bad and yes it is true there is the inevitable uphills. The scenery is absolutely spectacular – from wide vistas of all three Volcanoes to lush unspoiled bush.
This is a unique track as you can either enjoy the magnificent beauty with your family on a more relaxed and peaceful outing or tear the knobs off your tyres with your friends.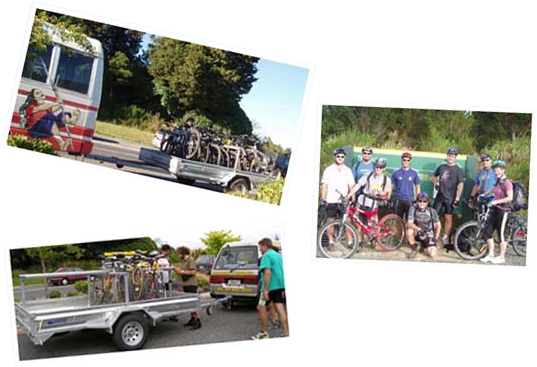 Fisher Track (14km 2-3hours)
Totally different than the legendary 42 Traverse. This relatively unknown downhill is an accelerating 10 km decent off the side of the Volcanic Plateau – dropping from 840 metres to 500 metres into the floor of the Retaruke Valley, an adrenaline rush is in your hands.
The surface is mixed but does have a fair proportion of grass, which makes for some interesting cornering.
Once again some lovely scenery if you have the time to take it in.
Old Coach Road Trail (14 km 2.5 hours) part of National Cycleway
The trail starts in Horopito, 14km decent to Ohakune Railway Station, Grade 2, through forest, over 2 viaducts, some cobbled road, through a curved tunnel.
Other local rides are available, from National Park Village if you are just wanting something different.
Transport with bike trailers is available.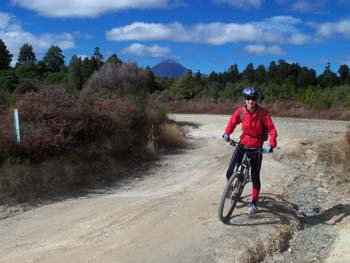 Trout Fishing our Local Wilderness Rivers & Streams
Ruapehu and the surrounding areas boast world class wilderness fishing. Offering angling of all types, from Trophy lake fishing (Otamangakau 20 min east of National Park Village) to the ever challenging wilderness backcountry head waters you can choose between sight fishing for large trout in streams almost small enough to jump over, to targeting the evening rise on large boulder strewn rivers.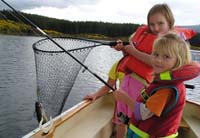 Whakapapa River is the largest tributary of the Whanganui River and one of New Zealands finest trout fisheries. all year round – in the upper reaches water clarity usually exceeds 15 metres. The Whakapapa flows through native forest alternating between turbulent rapids, deep pools and long boulder runs. There are a few easy places to cross and some caution is required. The fishing in the lower reaches around Kakahi is good with fish averaging 1.5 kg.
The middle reaches around Owhango fish well, access through Owhango reserve is good, from Owhango up river there is considerable private land. It is advisable to seek access permission from the landowners. Or use a reputable guide who has legal access. Other wilderness rivers Manganui-o-te-Ao, Whanganui, Waimarino, Ongarue and Retaruke. Licenses can be purchased from The Department of Conservation Offices.
TONGARIRO VOLCANIC ADVENTURES, FINDLAY STREET, NATIONAL PARK
Tongariro Volcanic Adventures is a transport service based at National Park Backpackers, with the aim of transporting people to and from the Tongariro Alpine Crossing, Whakapapa Village, Mountain Bike Trails and Whakapapa skifield at the Top of the Bruce road.
The fleet consists of:
" Isuzu Como 12 seater van
" Isuzu Journey 22 seater bus
" Hino Rainbow 33 sitting + 12 standing
" Nissan 35 sitting + 9 standing
" Mitsubishi Fuso 37 seater
" Mitsubishi fuso, 47 sitting + 19 standing
The service we provide would assist you whenever the Bruce is restricted or it is not desirable for you to run your vehicles from the barrier to the Top of the Bruce road. We would transport your passengers and return them to your fleet or as per your instructions.
Our service offers
Fully equipped buses for operating in snow & ice conditions
Skilled professional drivers
Drivers with knowledge of local conditions and facilities
We are available and prepared to travel to other destinations as required. We also offer a variety of accommodation from dorm beds to ensuite rooms at our Lodge in the National Park.
Tom Whitehead – Ph: 07 892 2870 / 0274 922 870
Email: nat.park.backpackers@xtra.co.nz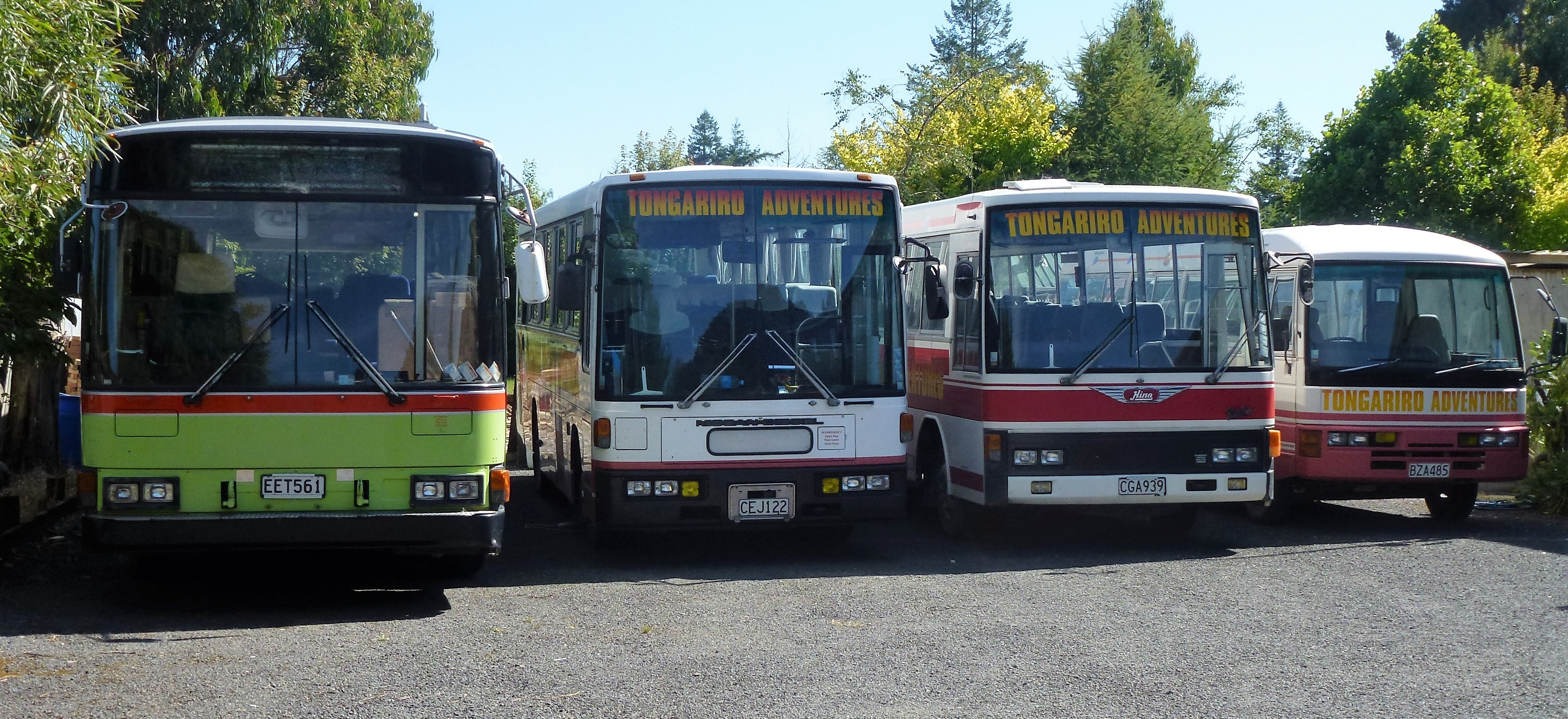 We are able and prepared to travel
Tours and charters on request
Middle Earth, View the filming sites of 3 locations, See Mt Doom.
Trips to Taupo and wet weather – alternatives from the Tongariro Alpine Crossing